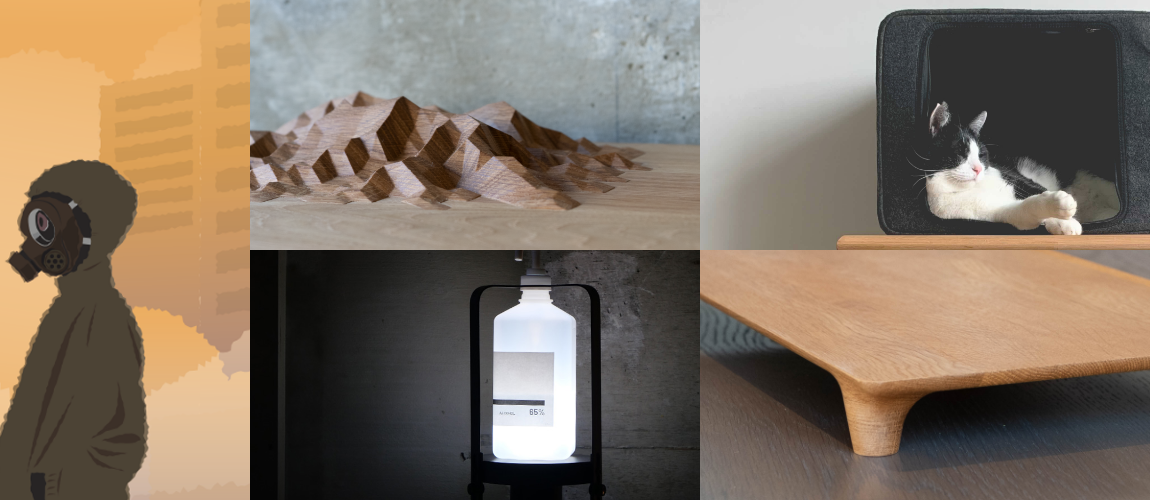 There are opportunities to broaden your perspective
At RICOH Design, we provide opportunities to think and design about themes in fields different from our regular design work in order to broaden our perspectives and learn new skills.
This time, we selected the theme of sustainability, which is a major trend around world. RICOH has adopted the slogan of "Driving Sustainability for Our Future." By taking a fresh look at the theme of sustainability, we tried to find concrete solutions to the questions of how to expand our thinking, how to generate new ideas, and what skills to use to realize these ideas.
Revisiting big issues as our own,
and focusing on the practical application of ideas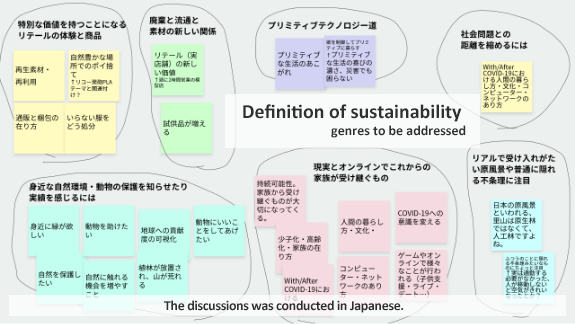 We discussed what I could do as a designer for sustainability and sustainable society, and whether I could be fully convinced it. Since the coronavirus pandemic began around the time we began our discussions, we also adopted the perspective of the new normal.
This perspective was a realization of the loss of the everyday life that we had not been aware of up until then, and it helped us to bring the larger issue of social sustainability to our attention. As a result, we decided to address the following areas.
How might we feel a sense of touch in our online lives?
How might we protect and feel the presence of nature and animals around us?
How might we become aware of trivial issues that we normally don't notice?
How might we shorten our distance from social issues?
These areas that the members have chosen to address may be slightly different from the world's perception of sustainability as seen in the news, books, and other media. In addition to the major issues in the world, we have set issues based on the problems that exist around each of the participating designers.
Before starting to design in these areas, two constraints were added. One is that it must be technically feasible and inexpensive to manufacture. The other is that it must actually work and be usable. At first glance, this may seem normal, but the reality is that designers are not often involved in the details of manufacturing. In corporate operations, each department has its own division of roles, and processing, manufacturing methods, and procurement are the responsibility of specialized departments. Therefore, it was a good opportunity for broadening my perspective by designing with an awareness of the unusual constraints of designing while expanding my own sphere of activity.
It was a challenge, especially for young designers. The challenges include the birth pangs of inspiring ideas from redefined sustainability, overcoming the skills gap between designers specializing in UI design and working with 3D CAD, researching materials and processing methods that do not require expensive and large-scale molds, trial and error, finding a partner that can produce small quantities of objects that can withstand use rather than models, and a series of negotiations through internal approval processes to contract, order, deliver, and pay for the product. This may be something we will experience someday, and we hope that experiencing this in a short period of time will broaden the scope of our activities in the future.
In the midst of the coronavirus pandemic, intra-team discussions, various surveys, and meetings with partners were conducted online, which made it difficult to proceed as planned. However, thanks to the efforts of the participating designers and the efforts of our partners, we were finally able to connect the perspectives of coexistence with pets in times of disaster, raising environmental awareness, and adapting to changing lifestyles due to the coronavirus pandemic, and express the sustainability of each.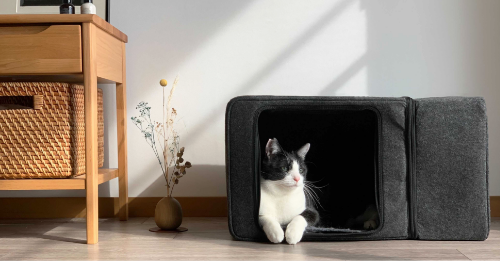 monyamo
Items for cat lovers and their cats for a society where no cat is left behind. This is a cat house and carrying case that fits in with any interior design.
>Detail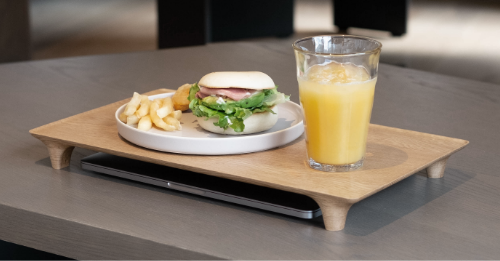 Lunch Tray
In a world where telecommuting has become the norm, this lunch tray is designed for home workers who do not have a dedicated work space at home, but instead use something like a small dining table to both work and eat.
>Detail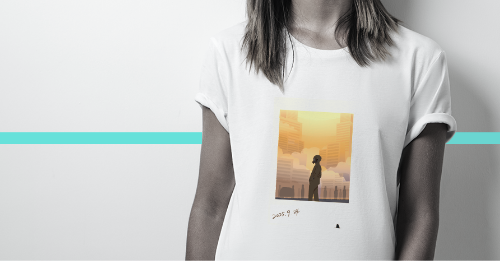 Crossed the boundary
The nine thresholds that must not be crossed, which have irreversible effects on the environment, are collectively called the planetary boundary. The T-shirt expresses this worldview as an opportunity to discuss environmental issues.
>Detail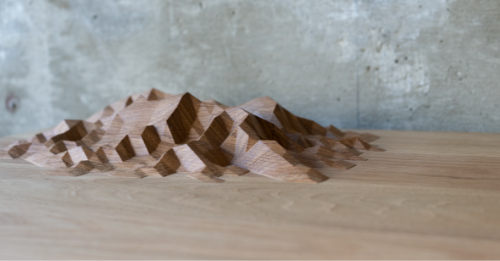 Mountain View Desk
This is a work desk that always has a view of the mountains, for those who want to feel close to nature even though the coronavirus pandemic has reduced opportunities for going out.
>Detail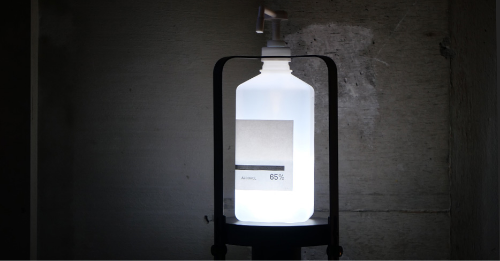 Alcohol Lamp
This alcohol bottle stand was conceived in relation to the space in order to reduce the bulkiness that alcohol bottles cause during emergencies.
>Detail