In order to create better designs
Designers today need to have diverse skills. A designer has to combine a number of different skills to create a design. Our growth support program helps Ricoh's designers to learn new skills in order to create better designs.
In this article, we explain how we learn new skills for video content creation.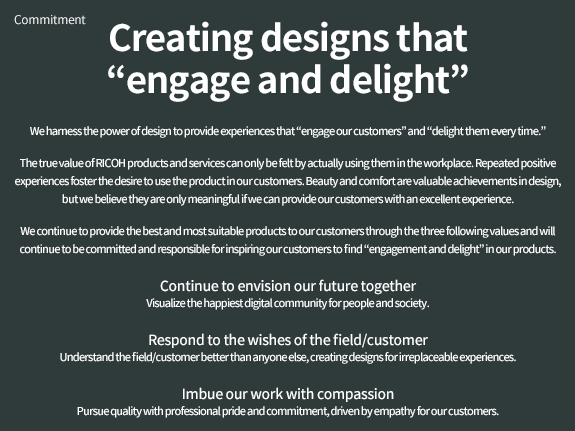 Video content as an integrated form of expression
The most important thing in design is conveying what we think.
Whether it is the shape or the method of operation, as part of the product's concept, images and music are very effective for expressing our way of thinking.
With the evolution of smartphones and camera devices, and the availability of high quality yet affordable editing equipment, it has become easier than ever before to express oneself using video content. We too should learn how to create videos, and learn new skills to upgrade ourselves as product and GUI designers.
And so we invited Mr. Mamoru Kano, a well-known visual art director, to teach us the basics of video production. We organized an educational program for designers to learn how to use video content as a communication tool.
Designers who participated in the program were told to express Ricoh Design's commitment of 'Creating designs that "engage and delight"' by creating a video clip that "conveys the message, is appealing, and is remembered". Each participant expressed the theme in his or her own way.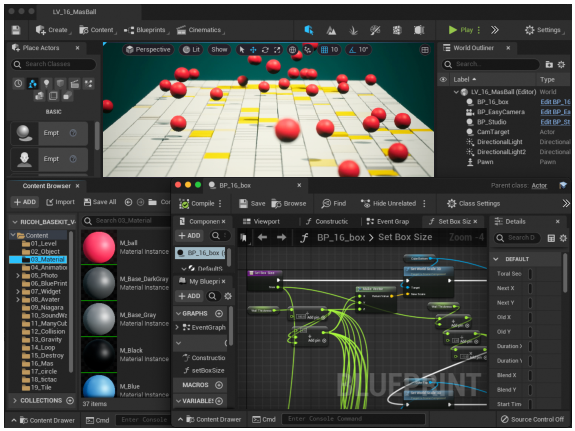 Learning how to use Unreal Engine
When we contacted Mr. Kano, we Imagined that we should be learning how to edit videos shot with cameras. However, he suggested that we create video content using Unreal Engine, a game engine developed by Epic Games.
We wondered if it was necessary for us to learn how to use a game development platform. We were also afraid that it might be too difficult for us. Nevertheless, we decided to trust the expert.
Initially, the designers had some difficulty getting used to the tool. Mr. Kano taught them the basics of video production and also how to use Unreal Engine. Eventually all of them were able to creating video content using the game engine, acquiring new skills that will help them in the future.
Here we show you some of the video clips made by the participants.
(Contents include Japanese.)