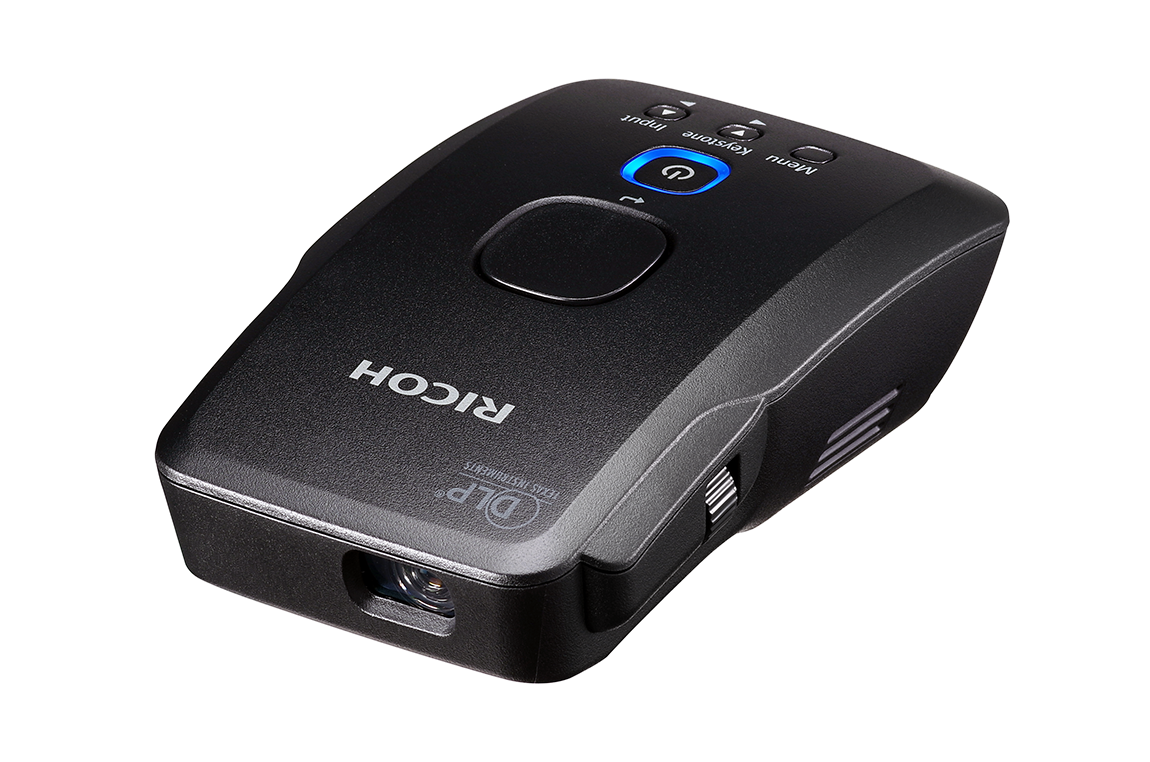 Compact Handy Projector RICOH Image Pointer GP01
RICOH Image Pointer GP01 is a compact handheld projector that is not like any other. Small enough to be carried in the pocket, and small enough to fit in the palm of your hand, all you need to do is hold the image pointer and point it towards a wall or onto the floor to project an image. Pictures or videos from a smartphone can be shared instantly. Whether business or leisure, it will be a whole new visual communication experience.
Release Date: December 15, 2021
This product is only available in Japan.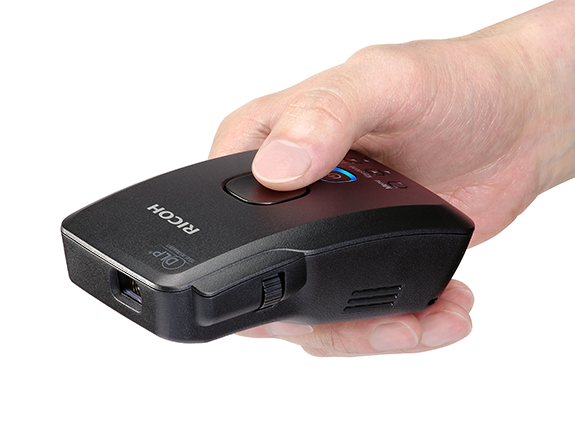 Shaped for Handheld Projection
RICOH Image Pointer GP01 is slightly arched, creating a curve between the optical axis of the projection lens in front and the grip at the rear. This ensures that the wrist remains in a natural position when projecting images, so that you will not get tired from using the image pointer for a long period of time.
Heavier components such as the battery are located in the rear which fits naturally in the palm of your hand. The image pointer is very quiet, and you will not feel air coming from it, because a fan is not used to cool it.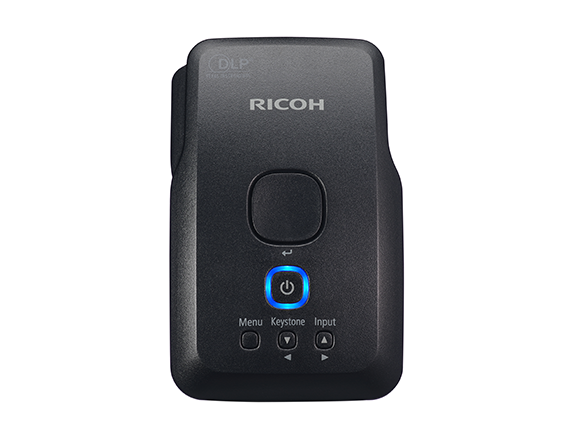 Extremely Easy Operation That Keeps Your Conversation Flowing
Press the large oval button on top to start or stop projection at one touch. The shape of this button is a "superellipse". A superellipse is like a shape in between an oblong and an oval. Compared to an oval of the same dimensions, it is larger and easier to press; compared to an oblong, the corners are more rounded for a softer look.
Winning Design from an In-House Program
RICOH Image Pointer GP01 was born from an idea that won in RICOH Group's in-house program to discover and develop entrepreneurial talent. In 2020, as RICOH Company's first crowdfunding project, it hit its target by 325% and we decided to commercialize the product.
Design members participate in product development after they are selected from the in-house entrepreneur development program. The basic design concept is also chosen by RICOH Design through a competitive selection process. In this way, Toshihiro Hamamura's design for the image pointer was selected. At this point, his idea already fulfills two of the requirements that must be met by the final product: "fits in the palm of one's hand" and "easy-to-use".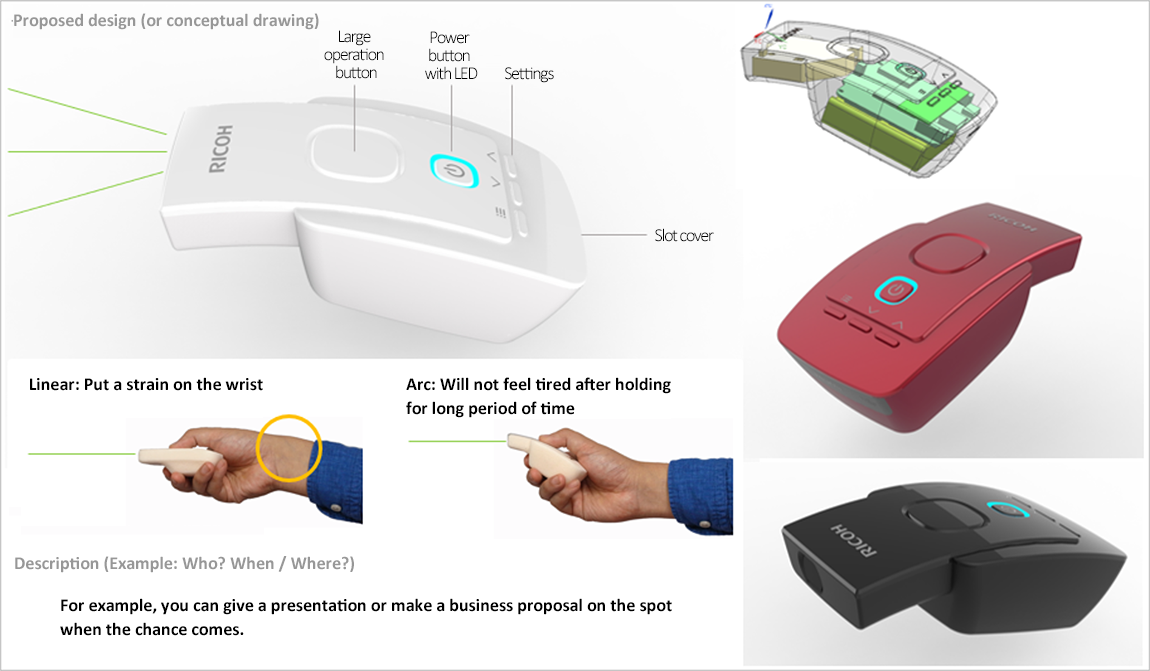 From the Design Competition Records
Hamamura first started in a simple and traditional way to create a design. To find out how big the product will be and how it feels, he shaped polystyrene foam by hand to make a mockup. His initial idea was something very slim and compact, like a T.V. remote control. Then he tried holding the mockup in his hand and realized that he had to twist his wrist slightly to project an image, so his wrist got tired after a while. That was how he came up with the idea of a curved shape with the optical lens placed at an angle.
Combining "Low Tech" and "High Tech"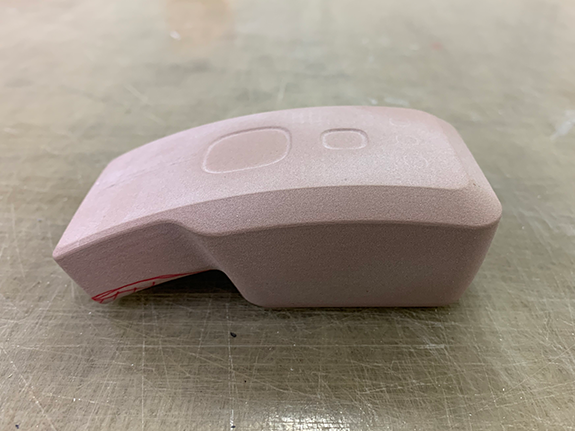 When commercializing the product, Hamamura faced a number of challenges.
The first challenge was the size of the battery. A larger battery had to be used to ensure performance. If Hamamura had known that, he would have chosen a different shape for the image pointer. However, he decided to keep to his original design. And so, to hold the battery, the image pointer became slightly bigger than initially planned. To prevent it from looking bulky, the top surface was contoured all around for a softer appearance. This also made the image pointer more comfortable to hold.
<!—タイル module-->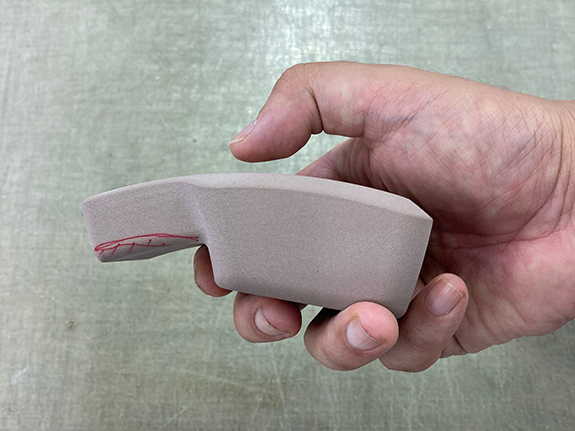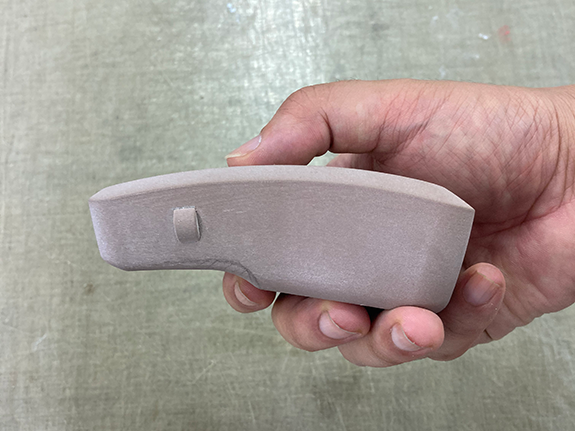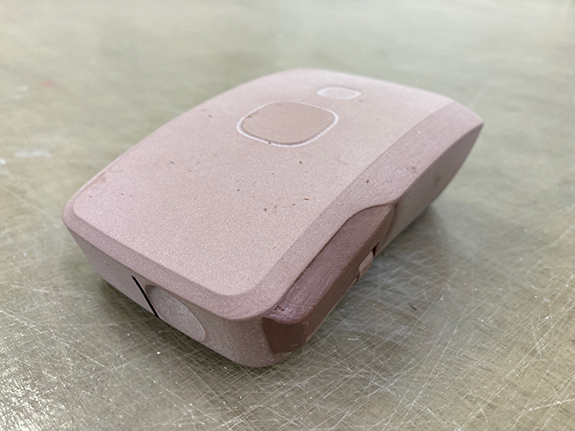 The next challenge was a larger optical unit for better performance, and an engineering change to the heat emission mechanism. To accommodate them in the front part of the body, much of the depression in the bottom surface had to be removed. A flatter and smoother surface meant that there was less grip, making it easier for the image pointer to slip and fall from the user's hand. At the same time, based on feedback from the contributors to the crowdfunding project, a hole for mounting tripods was also added to the base.
Hamamura applied industrial clay over the mockup and adjusted its shape as he checked the grip. The result was then input into the CAD data.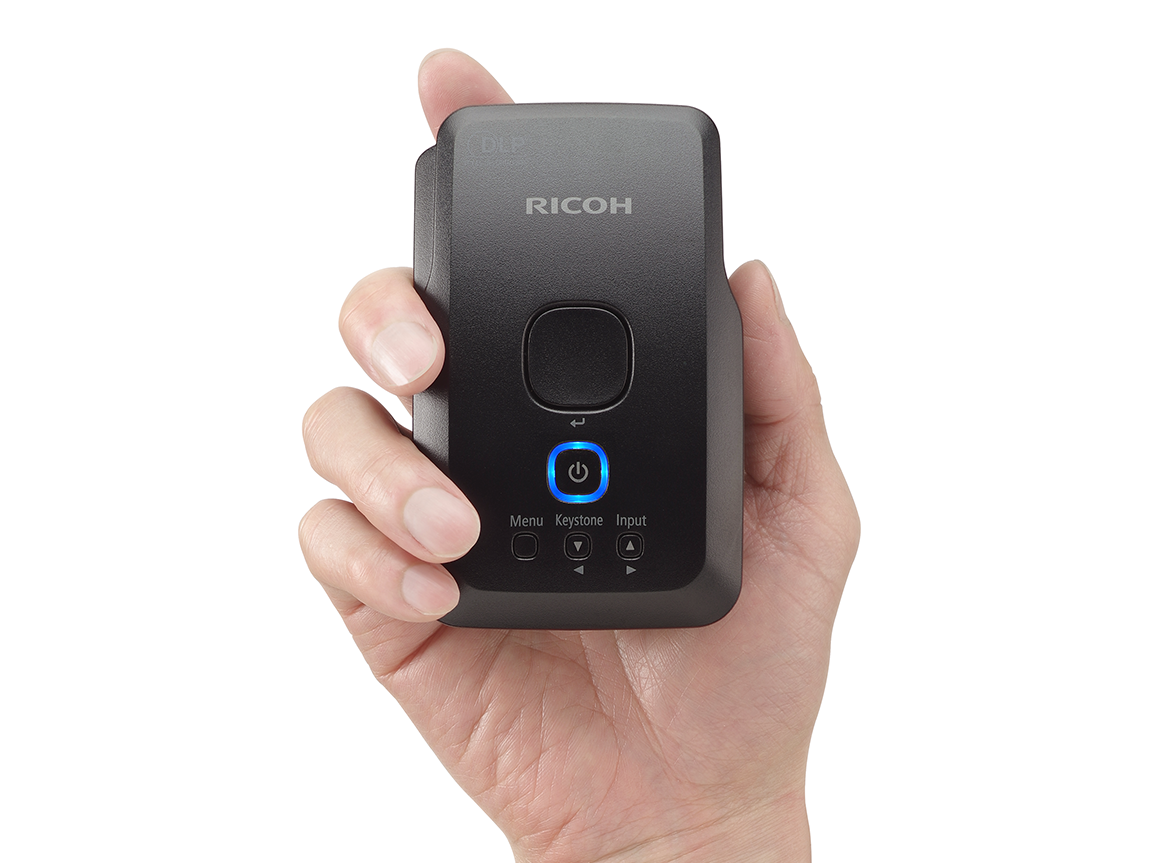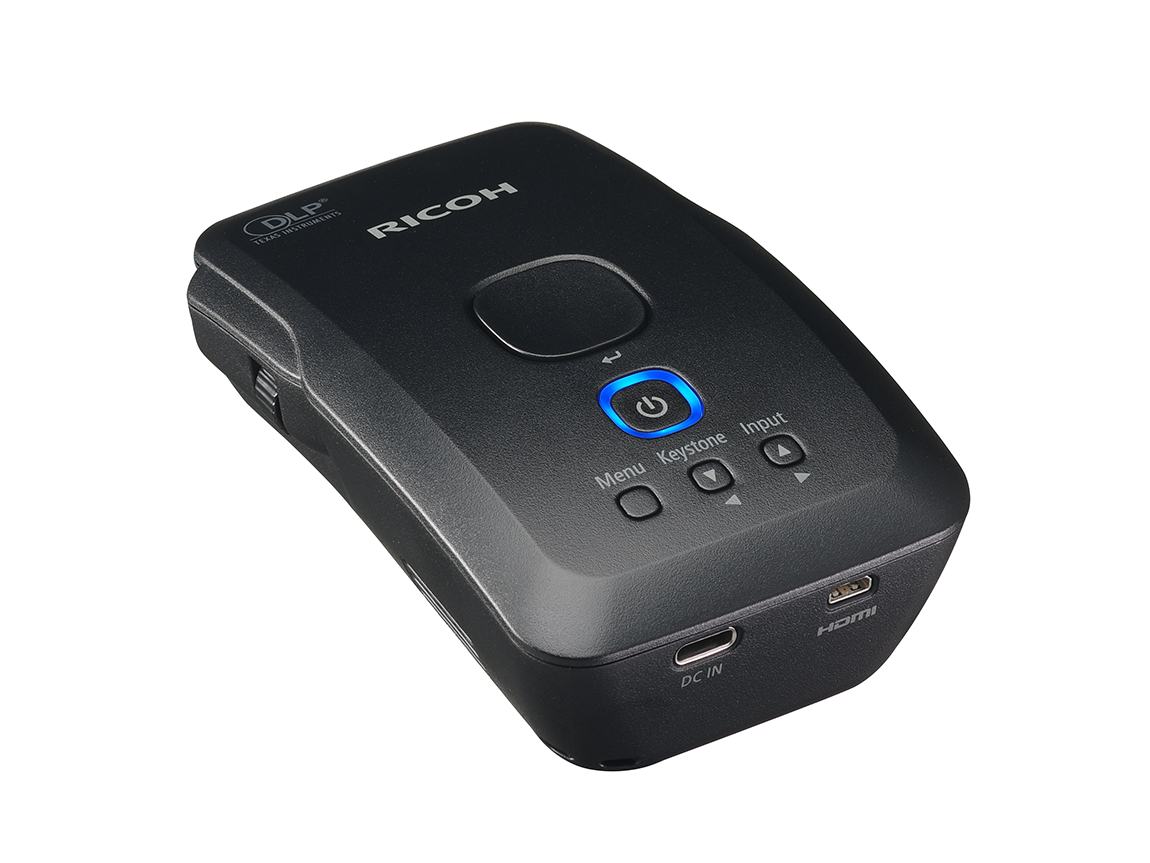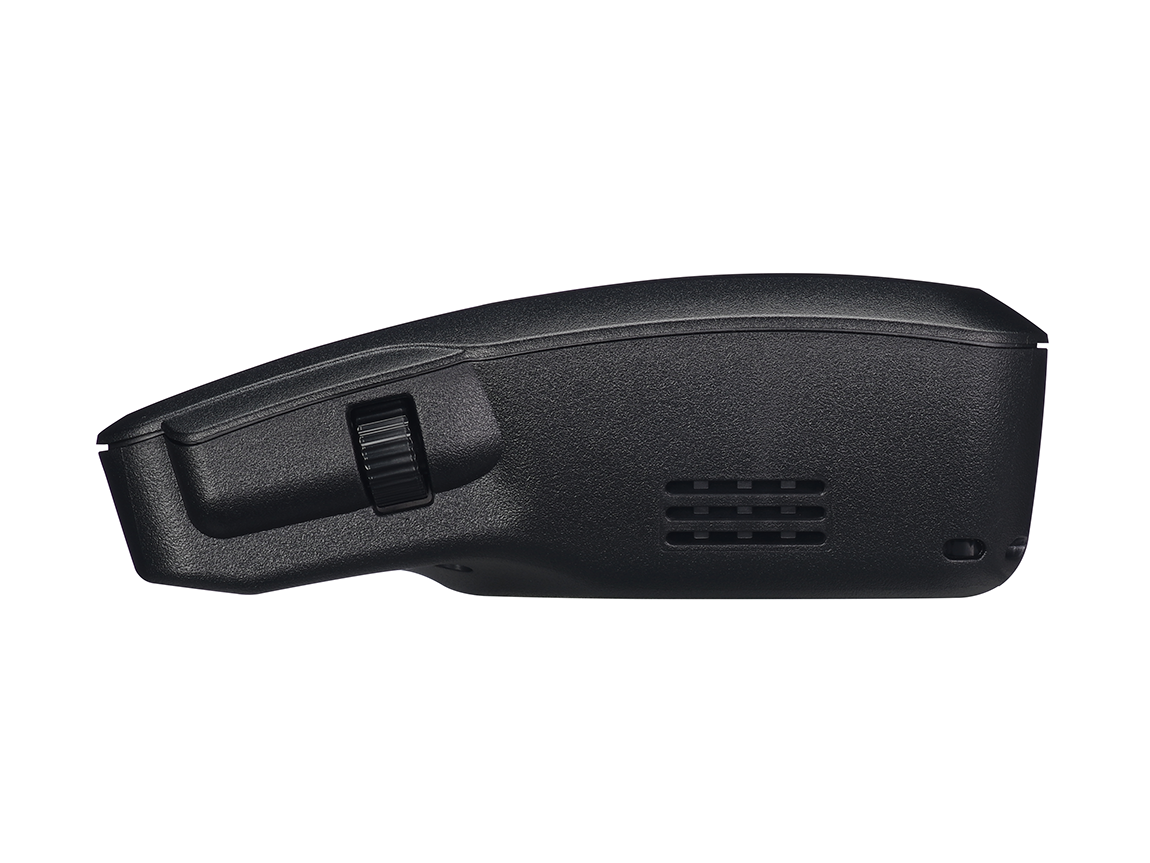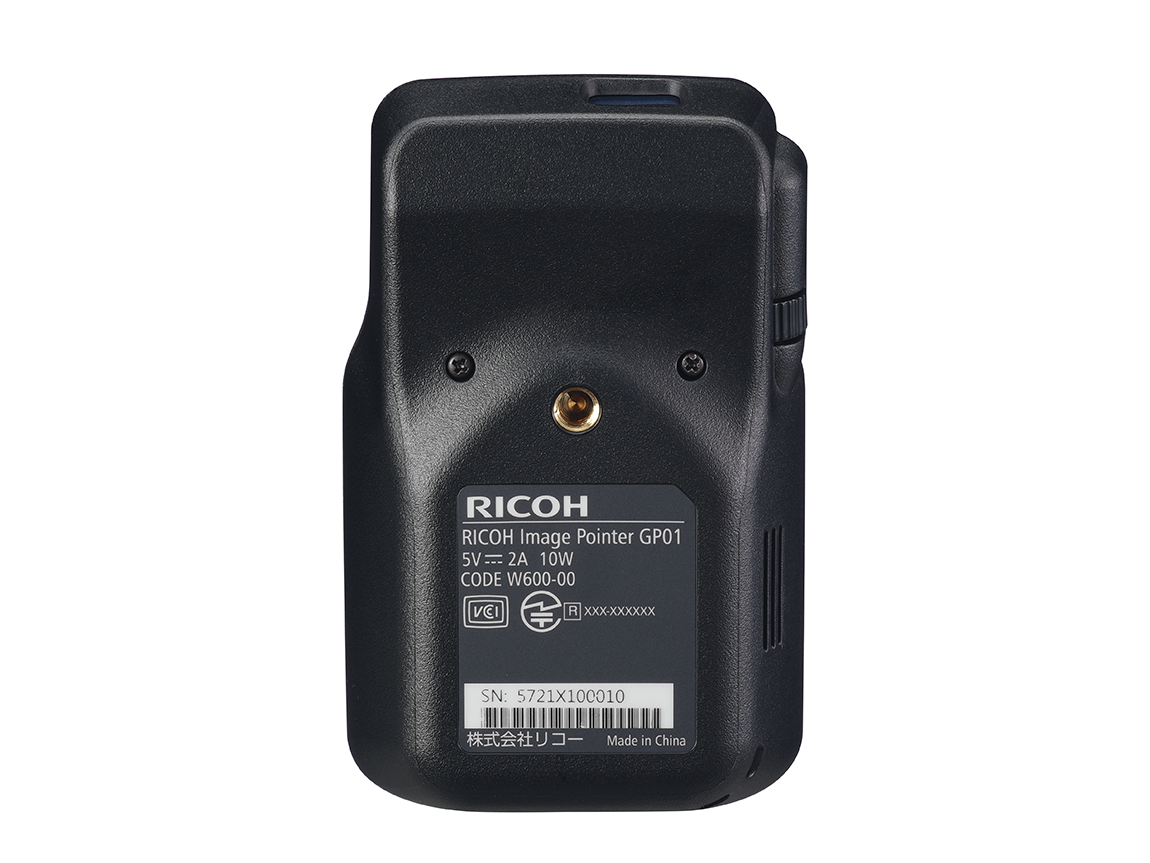 Making Possible "A Projector in Your Hand"
RICOH Image Pointer GP01 is a new type of handheld projector, one that you use holding it in your hand. What is the design that will give the most and best value to its user? To find the answer to this question, Hamamura combined "low tech" and "high tech". With "low tech", he used a mockup to find the ideal shape by touch; with "high tech", he used 3D CAD to create a model. Both led him to one answer.
Hamamura had a lot of experience in designing cameras and binoculars, and this experience also helped when designing the image pointer. "For something that you hold in your hand, even a small change of 0.1 mm can make a very big difference. Therefore, it is important to make a mockup and check how it feels. It has been a while since I designed a product in this way, and I really enjoyed it." (Hamamura)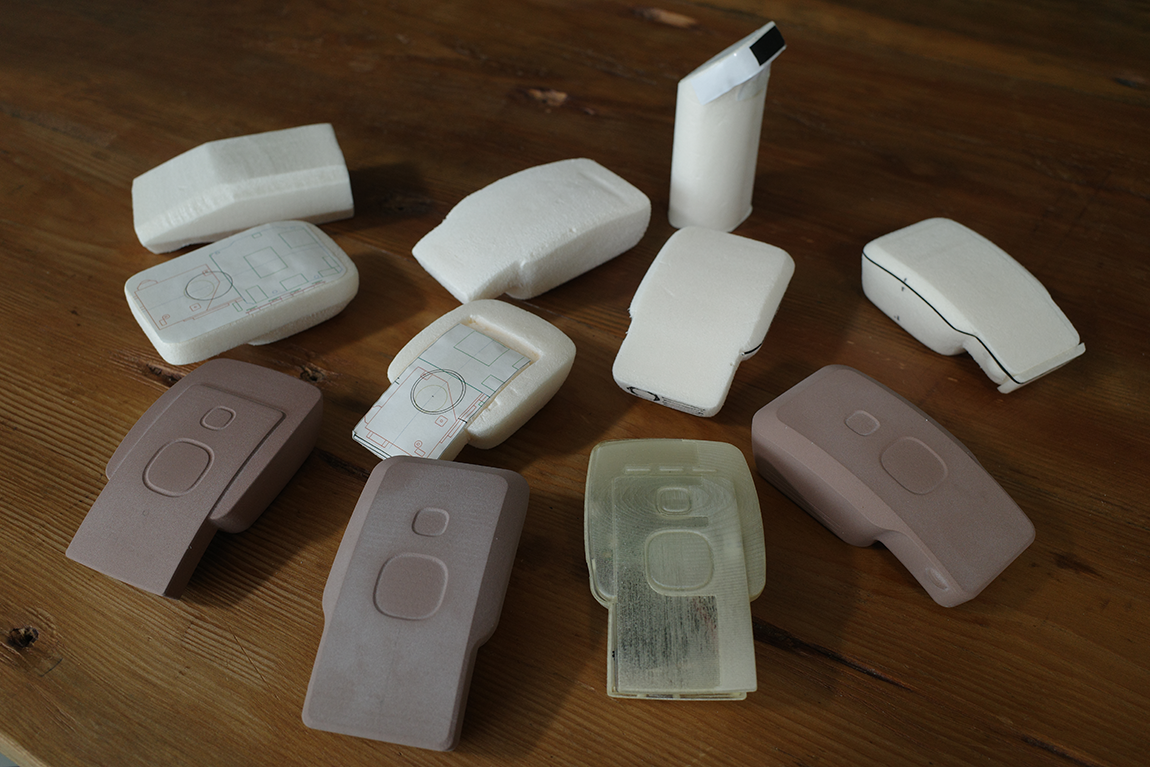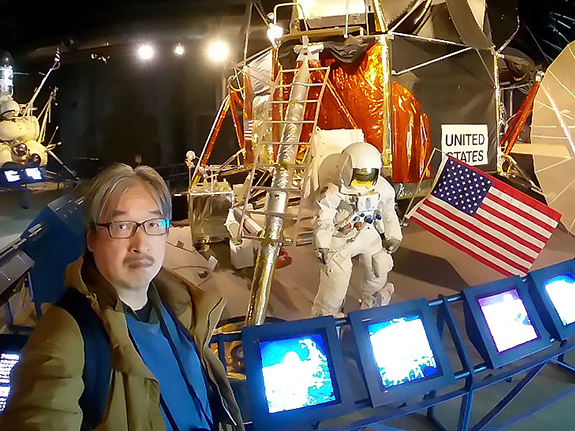 Toshihiro Hamamura
Hamamura has been designing Pentax cameras and binoculars for many years. Now he also designs for RICOH's BtoB products and new business projects.