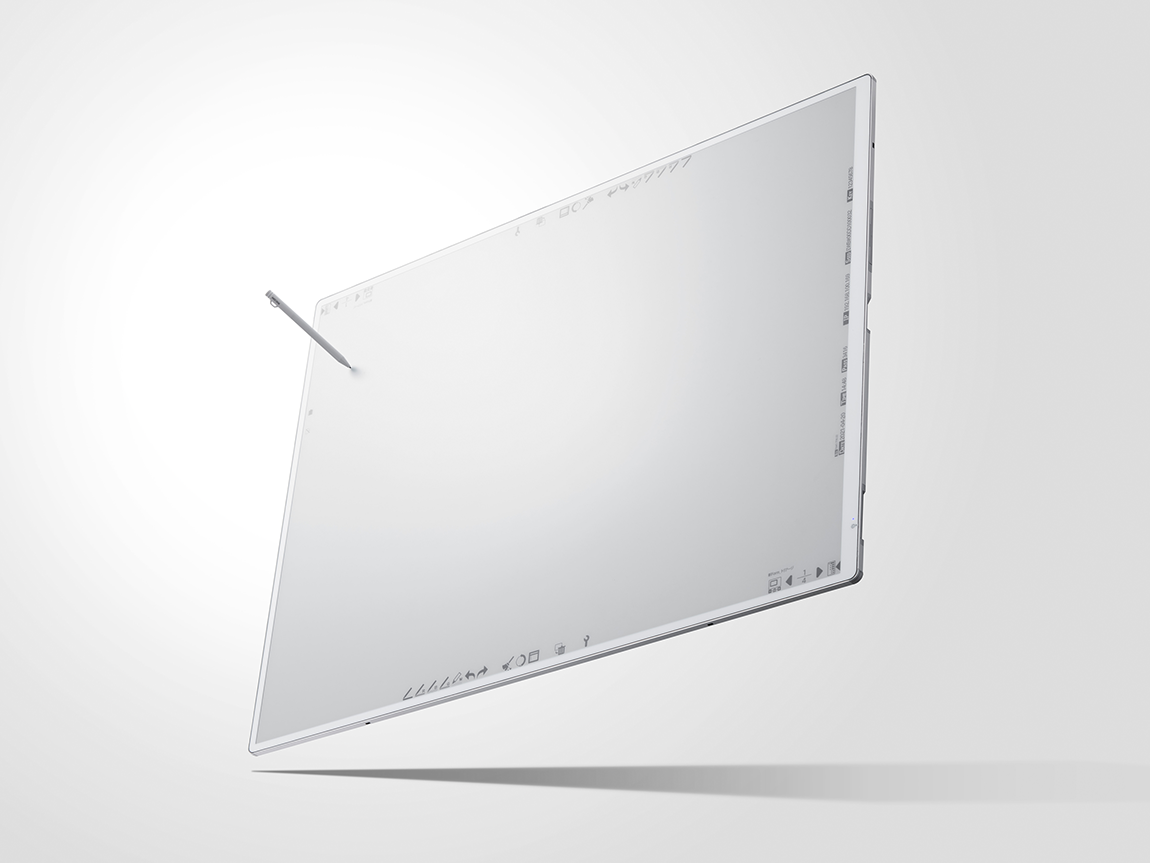 Large-sized electronic paper display RICOH eWhiteboard 4200
RICOH eWhiteboard 4200 is a large-sized electronic paper display that facilitates on-site communication both indoor and outdoor, to enhance work efficiency. The biggest of its type, it is waterproof, dust-proof, and highly portable, bringing about digital transformation for people working in fields such as construction, manufacturing, medical care, and firefighting, where digitalization was thought to be difficult.
Release date: July 27, 2021
This product is only available in Japan.
Sorry, this video contains Japanese only.
Not much progress has been made in digital transformation of on-site work, due to the unique environments and workflows. For example, analog mediums such as whiteboards and large sheets of paper are still used for making drawings and managing tasks in construction and manufacturing, sharing information about emergency admissions at hospitals, or when commanding firefighting operations. Many challenges remain for such workplaces to share information with remote locations, update information, and store and accumulate data. To bring digitalization to them, RICOH eWhiteboard 4200 was developed for use even in harsh environments.
An electronic paper screen was used to create a large-sized display that is slim and light enough to be carried around. This screen does not require much power, so the electronic whiteboard can be operated with only the built-in battery. The thickness of the mainframe is barely 14.5 mm, yet the whiteboard allows writing with an electronic pen (stylus), provides communication functions, and is waterproof and dust-proof. It can recognize handwritten characters and convert them into text data. If technical terms are added the dictionary, the user only needs to write the first character, and possible terms will be suggested by predictive text input. This speed up the input process. The whiteboard can also connect cloud storage, and allow the use of standard forms and stamps for smooth work operations.
High quality design to meet the needs of all kinds of workplaces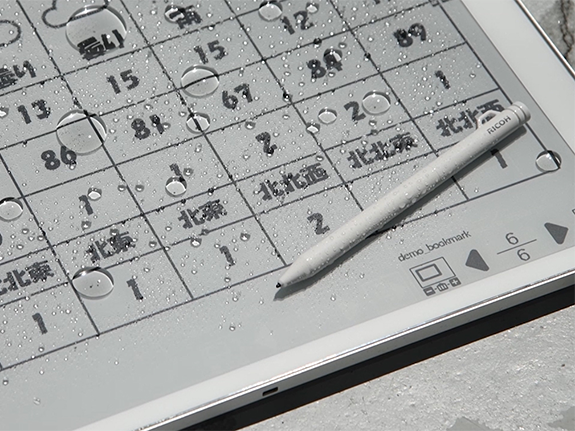 The front frame of RICOH eWhiteboard 4200 is white in color. This color was chosen to show design identity of RICOH products. The color also makes the whiteboard look futuristic, as well as gives a sense of cleanliness.
Tetsuji Kuroda, who was in charge of the product design of RICOH eWhiteboard 4200, recalled, "We considered a number of color possibilities such as gray, but eventually decided on white to give the product a futuristic feel. This whiteboard is also intended for used in medical care, which is also one reason for choosing white. In the medical field, white color is preferred for a sense cleanliness."
In contrast, silver color was used for the sides and back to give a metallic feel. "At a construction site, the whiteboard may be propped roughly onto an easel, and it may get scratched. With paint, scratches will be more noticeable. With blasted anodized aluminum, scratches will be less obvious. The material also gives the whiteboard a light glossiness and a pleasant feel, allowing the design to blend into all kinds of workplaces," said Kuroda.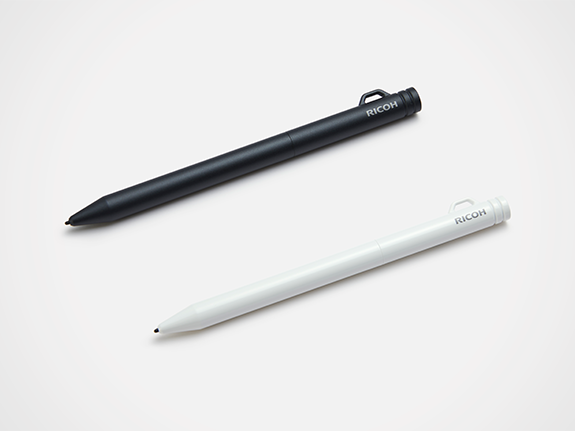 RICOH eWhiteboard 4200 comes with electronic pens for handwritten input. The pens are available in two types: white and black. The whiteboard can detect the color, allowing users to visually differentiate their writing when converting the images to PDF. "The engineers wanted to distinguish between two types of pens, so we decided to create a clear distinction using black and white. It must be easier for a user in the field to give instructions such as, 'Take the black pen'," said Kuroda.
The white pen has a glossy finish so that smudges can be easily wiped off, while the black pen is given a metallic, matte texture so that fingerprints are oblivious.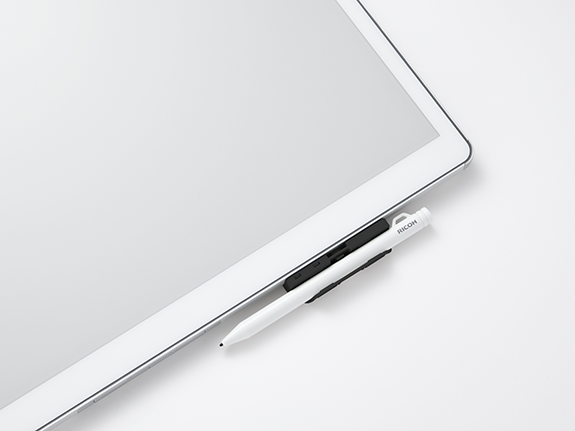 RICOH eWhiteboard 4200 is designed to accommodate all kinds of use. It can be installed vertically, horizontally, and laid flat, giving a lot of freedom for operation. Depending on the orientation of the whiteboard, the electronic pen holder can also be attached to seven different locations on the sides. These locations have Kensington security slots for theft prevention. The pen holder can be attached using the security slot mechanism, thus realizing a minimal design.
There is no RICOH logo or product name plate on the front of the unit. Kuroda explained, "Normally, a logo is placed on the front of a product. However, because this whiteboard can be installed in many different ways, depending on its orientation, the logo appeared sideways or upside down, and that would bother you when you look at it. Therefore, we decided to go without the logo."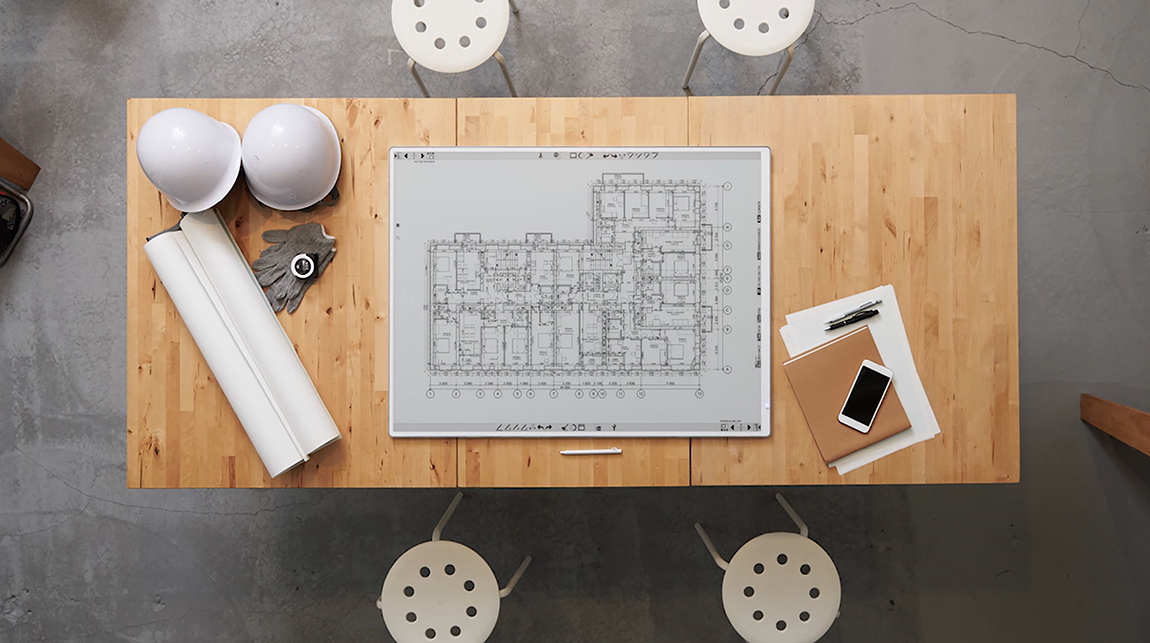 RICOH eWhiteboard 4200 brings totally new value to workplaces.
When designing this whiteboard, Mr. Kuroda envisioned how it would be used in a variety of workplaces, and created a design to support all types of use. He also gave the whiteboard a high-quality and futuristic look as a product that will revolutionize the workplace.
During product development, the whiteboard was tested in the construction and manufacturing industries, medical care, and in firefighting operations. Since its launch, it has been well received by many users. We look forward to feedback from its users on how they want the whiteboard to be, and will continue to develop the product to support all kinds of work in the future.
To be exhibited at the "My Favorite Design" exhibition
RICOH eWhiteboard 4200 has been selected for the Good Design Award 2021 and for "My Favorite Design". You can see it at the exhibition for which details are given below.

- Exhibition overview -
My Favorite Design
The selection from GOOD DESIGN AWARD 2021
This is a popular project of the Good Design Award, where about 70 designs are selected by the jury members of the 2021 Good Design Award as their personal favorites or interests and introduced with their comments.
Date: October 20 (Wed.) - November 24 (Wed.), 2021
   11:00-19:00 Open during the period
Venue: GOOD DESIGN Marunouchi
   (Shin Kokusai Building 1F, 3-4-1 Marunouchi, Chiyoda-ku, Tokyo)
Free admission
- Comment from the jury member who selected the RICOH eWhiteboard 4200 -
Mr. Nobuyoshi Yamazaki
The size, thinness, and expressiveness of this product had a strong impact that made me want to use it.
The vivid contrast and clear interface strongly remind us of the "comfort of handwriting input".
This product can assist in information transmission and communication in various situations.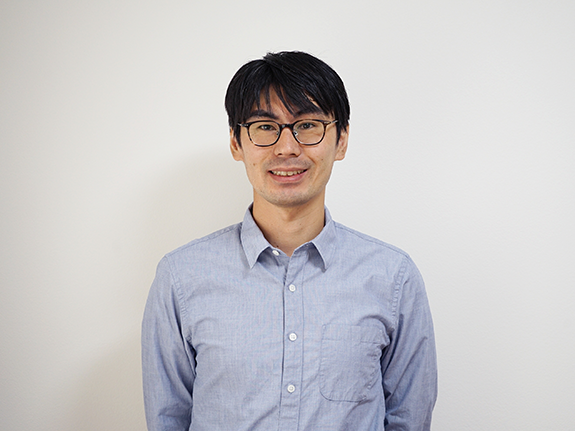 Tetsuji Kuroda
He has been in charge of product design
for a number of products, including
office equipment and cameras.
He is now involved in supporting
the creation of new businesses.